Achievements
KCEANS VISIT MALTA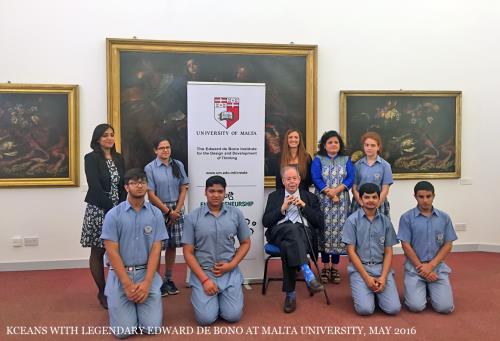 6 students of KC Public School along with CCA Coordinator of the school Ms Shobhna Sethi visited Malta as members of the 4th Delegation of Indian students and teachers recently. The yearly delegation is arranged by the University of Malta in collaboration with the High Commission of Malta in India with the purpose of promoting Indo-Maltese cooperation in the field of education.
The students spent a week in Malta during which they attended programmes related to creativity, innovation and entrepreneurship at the world famous Edward De Bono Institute of Design & Development of Thinking at the University of Malta. In addition, they also interacted with a delegation of students and teachers from France and visited some of the most famous historical sites in the island country.
The students from KCPS on the Indian delegation were Rupakshi Mahajan, Sarthak Gupta, Ribhav Mittal, Karan Dhar, Amodhini Karwani and Ritvik Gupta. In a special morning assembly, they shared their experiences with other students of the school after which Principal Amarendra Mishra presented them their certificates of participation in the delegation.